Welcome to the Ultimate Physiotherapist-Led Retul Bike Fitting Experience in Sheffield, UK!
Are you a passionate cyclist or triathlete seeking to unlock your maximum potential on the road or in competition? Look no further! Our premium physiotherapist-led Retul bike fitting service in Sheffield, UK is meticulously designed to elevate your cycling and triathlon performance across all
disciplines.
Why Choose Us
At our fantastic Fit4-Velo Bike Fitting Studio in Kelham Island, Sheffield, we take immense pride in offering a bespoke bike fitting service that goes beyond the ordinary. Here's why you should entrust us with your bike fitting needs:
1. Expert Physiotherapist:
Our bike fits are performed by Richard Follett, a vastly experienced sports physiotherapist and certified Retül bike fitter. We believe a physiotherapist is best placed to perform bike fits as we can blend our deep understanding of anatomy and movement with sport specific knowledge to ensure your set up is optimized for both performance and injury prevention.
Richard worked for years in elite sport for the English Institute of Sport (now UK Sports Institute) including being physio for the British Triathlon Team. He's also a keen cyclist and has raced mountain bike and triathlon events giving him a unique perspective and in-depth knowledge base.
Anyone can read a graph or look at some joint angles but what sets us apart is having a specialist Physiotherapist interpret 3D data capture and by combining this with the information gained from your interview and physical assessment, we can ensure we get the best possible outcome for every individual.
2. Retul Precision:
We utilize state-of-the-art Retul technology, a gold standard in bike fitting, to analyze your body's movement and interaction with the bike. This data-driven approach allows us to make precise adjustments that result in enhanced efficiency and comfort during your rides.
3. Tailored for All Disciplines:
Whether you're a road cyclist, mountain biker, track racer, triathlete or gravel and adventure rider; our bike fitting service is tailored to your specific discipline. We understand the unique demands of each discipline and optimize your bike position accordingly.
4. Performance Gains:
Experience improved power transfer, reduced fatigue, and increased aerodynamics as a result of our meticulous bike fitting process. Our goal is to help you achieve your personal best in every ride or race.
5. Injury Prevention:
A proper bike fit is a key component of injury prevention. Our physiotherapists ensure your bike setup promotes optimization on all fronts (unique to each rider), reducing the risk of strain and overuse injuries.
Our Process
1. Initial Interview
We begin with a comprehensive discussion to establish current issues, riding history, training loads, riding goals, longer term aims and objectives.
2. Assessment:
A detailed physical assessment involving functional tests and mobility / flexibility measurements off the bike helps inform the whole fit process.
3. Retul 3D Motion Capture Analysis:
Using Retul's cutting-edge motion capture technology, we gather real-time data on your riding posture, pedal stroke, and biomechanics.
4. Adjustments:
Based on the gathered information from our interview, physical assessment and 3D data capture, we make precise adjustments to your bike including saddle height / tilt / fore-aft; handlebar reach / height / rotation; cleat alignment. We sometimes suggest trying new equipment such as saddles, stems or bars if we think it will benefit.
5. Re-test and Feedback:
You'll continue to ride with further 3D motion capture data gathered to accurately assess how these adjustments have affected you and so you can ascertain any immediate differences. We fine-tune the setup based on your feedback, ensuring a perfect fit that enhances your performance and comfort.
Book Your Bike Fitting
Ready to revolutionize your cycling or triathlon experience?
Book your physiotherapist-led Retul bike fitting session today and take the first step toward reaching your performance goals.
BOOK NOW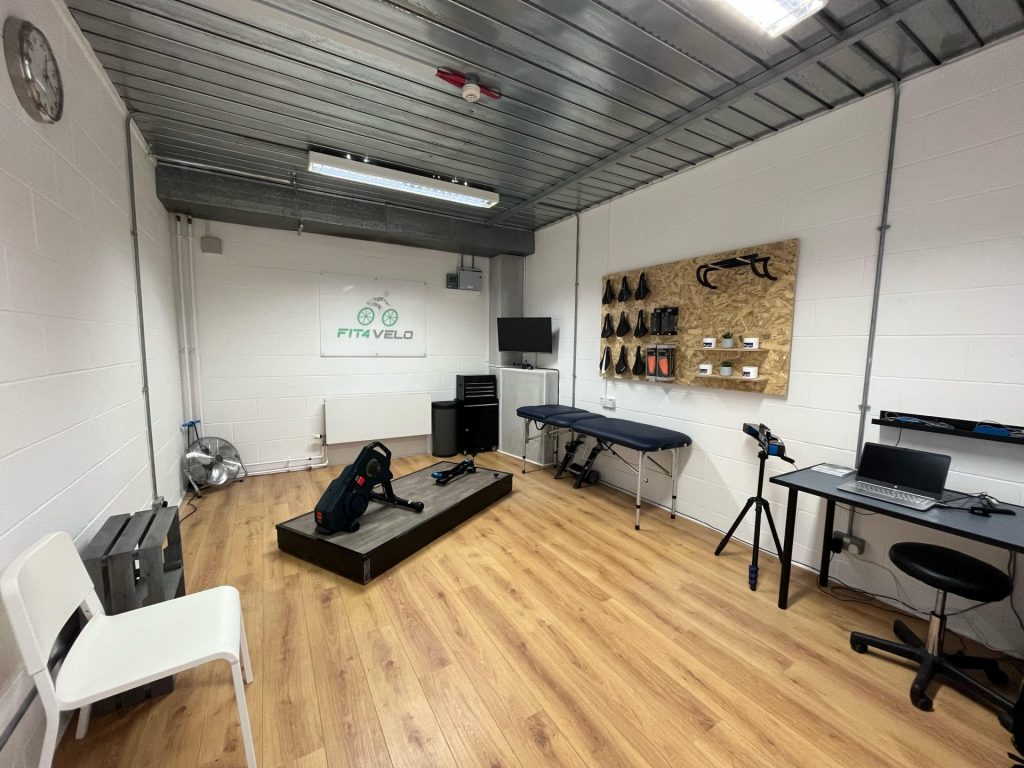 Upload Image...
Upload Image...
Want to know more?
CONTACT US
Contact Information
Location: Unit 11, New Mesters, 53 Mowbray Street, Kelham Island, Sheffield, S3 8EN, Sheffield, UK
Phone: 07938680320
Email: info@fit4-physio.co.uk
Instagram:
Facebook:
Don't settle for an inferior bike setup that hinders your potential. Elevate your performance with our expert physiotherapist-led Retul bike fitting in Sheffield. Unleash the athlete within you and conquer every ride or race. Book now!