Charlie from F4P had her bike fit done during the inaugural bike fit evening on 23rd Feb. On the eve of her 1st sportive, we caught up with her and asked her how her training had been going and what she made of the bike fit changes to her set up.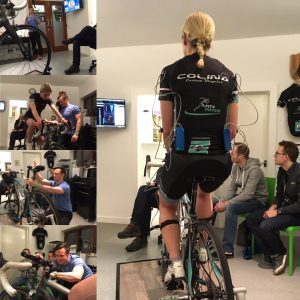 What 5 words describe your riding history / ability / enthusiasm etc?
"Novice / fair-weather / determined / coffee stop / focused / #wishiwasinthealps / daydreamer"
(That's more than 5 words!)
What have you been training for and how is your training going?
" I've been training for a 66 mile sportive in the new forest on April 9th. I've been building up my mileage and frequency of rides gradually since Christmas which I've found hard with the weather as well as juggling work and family life. I try to complete one ride a week outside as well as a turbo session. I'm hoping the hills of the Peak District will pay off over the distance! I've then got a 4 day trip to majorca with two friends in May so thats when I'll see if the training has really worked. "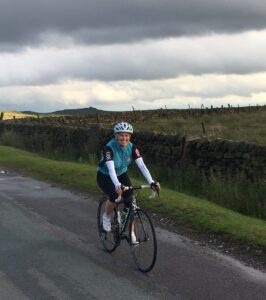 You had your Retul bike fit performed by Rich at the F4P bike fit evening, what changes were made on the day?
" Rich needed to raise by saddle height by 16mm and so had to change my seat post in order to do this as the Cannondale standard post would have been placed above the minimum insertion line.
My saddle was also moved slightly further forwards and my bars were also lowered 20mm by removing spacers under the stem. "
How have the changes affected you and your riding?
" Prior to my fit I would say I felt very upright on my bike which in turn made me feel slightly disconected and distant from my bike. I didnt always feel confident on descents and felt the bike was not very responsive. I felt my reach was quite long which in conjunction with upright position led to my neck and shoulders hunching up and acheing towards the end of the ride. "
" Since having my bike fit in February, I feel bringing me up and forwards over the bike has made me less upright which has automatically shortened my reach. I no longer feel my neck and shoulder creeping up towards my ears as they are much more relaxed. I feel the bike is much more responsive to my handling especially on the descents and I feel a lot more confident on the drops. I used to get some pinching in my right hip during the climbs and again this has settled in my new position. Overall I feel stronger and more efficient. "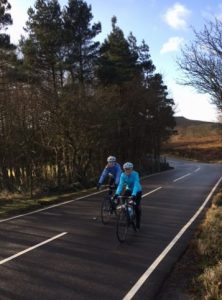 What would you say to someone considering getting a bike fit?
" Bike fits aren't just for the elite or seasonsed cyclist, they are for any cyclist serious about achieving their goals, no matter how big or small. Imagine if there was one single thing that you could do that could help you ride further/faster and more efficiently without spending fortunes on new carbon fibre components and there you have it – a bike fit! Its allowed me to get the most out of my training and hopefully enjoy both the sportive and Majorca. "
" I also think that without the physio knowledge that was applied to my bike fit by Rich, my specific sites of pain / injury wouldn't have been addressed as well. So, I'd certainly recommend having a physio with good knowledge of cycling to complete your bike fit and whilst I may sounds biased, I'd say head to Fit4-Physio and see Rich! "
What sort of cyclist do you think would benefit from having a physio led bike fit at F4P?
"All levels of cyclists from novices to elite athletes would benefit from a bike fit. A bike that's not fitted correctly has the potential to lead to injury, reduced performance and discomfort. Having a physio fit the bike has the added bonus of being able to understand the body and its position whilst in the saddle. Rich was able to reason the aches and pains i was having with my current poisition and adjust the bike accordingly. "
Good Luck to Charlie on April 9th in the New Forest Sportive!