We've put together our must have gift list for the runner in your life this Christmas (or maybe just treat yourself!) We've taken inspiration from some of the runners in our lives to bring you something for everyone…………..
1. The just getting started runner – Garmin Forerunner 10 GPS Watch
Does it exactly what it says on the tin – whether you're running your first 5km or training for a marathon this watch will track your every step. It will even track your calories so you can work out exactly how much Christmas cake you can eat :o)
www.wiggle.co.uk/garmin-forerunner-10-gps-watch/
2. The dog lover – Hands free running waist leash
Inspired by Flossie my 7 month old schnauzer who I can't wait to go for runs with in Endcliffe Park. Walk the dog and go for a run at the same time – what more can you ask for?
www.innerwolf.co.uk/hands-free-waist-lead.html
3. The big kid runner – Um Bongo Running Vest
For the runner who never grew up – I can think of a few of these! This retro running vest is sure to get a smile when you're out at your next park run or fell race! P.S Check out the love hearts and refresher ones too!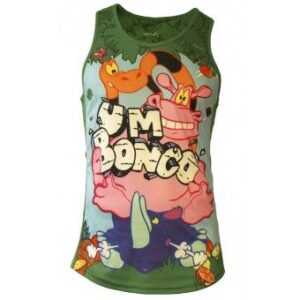 www.upandrunning.co.uk/um-bongo-running-vest
4. The smart phone runner – Ronhill Sirocco Glove
Love them or hate them you can't get away from smart phones even when you're out running. These gloves have a smart tip helping you use your phone on the go whilst keeping you nice and toasty.
www.prodirectrunning.com/Products/Ronhill-Sirocco-Glove-Mens-Running-Clothing-Black-82997.aspx
5. The always injured runner – Your Life – Train for It by Bear Grylls
I caught up with an old friend a couple of weeks ago who put me onto this book. Combines functional strength, kettle bells and power stretching into achievable and bite size workouts to help you stay strong and healthy. LOVE LOVE LOVE this book!
www.amazon.co.uk/Your-Life-Train-For-It/dp/059307419X
6. The runner who always gets blisters – Thorlos Experia Running socks
Ok so it's a cliché but no Christmas list would be complete without a pair of socks! Socks don't get much better then this when it comes to running – so good you'll want to go out on Christmas day
www.sportsshoes.com/product/thr42/thorlos-experia-running-socks/#description
7. The gadget lover runner – Garmin Forerunner 920XT
There is only person I can think of when it comes to having the must have gadget and that's my brother in law Ben. Possibly the daddy of all running watches taking running to another level – tracks you cadence, ground contact time and vertical movement not to mention it can be used in the swimming pool too! Question is – will it make you a cup of tea when you get in…..
buy.garmin.com/en-GB/GB/sports/running/forerunner-920xt/prod137024.html
8. The girly runner – Adidas Studio Power Lace Ladies Running tights
Inspired by me! Brighten up your running wardrobe with these wowzers, get your sunglasses ready :o)
www.startfitness.co.uk/ladies/new-season/adidas-clothing/adidas-studio-power-lace-ladies-running-tights-m67103.html
9. The runner who just can't get their foam roller into the bits that need rolling – APPI Spiky Balls
Inspired by you – Anyone who's seen me know how much I go on about the need for every runner to own a spiky ball! A perfect stocking filler for all those hard to reach tight muscles – ouch!
10. For the runner who has everything!
Ok so you've worked your way down the list and still nothing jumping out at you? How about a Fit4-Physio gift voucher. We offer gift vouchers for sports massage, physiotherapy and gait analysis. PLUS for every gift voucher you buy you will get £5 for you to spend at Fit4-Physio. The gift that keeps on giving. Call us on 07938 680320 or email charlotte@fit4-physio.co.uk to see how we can help you
Happy shopping!!!