Josh Lewis, ACL Rehab up to now.
It's been a rather slow frustrating journey, but finally things are starting to pick up with my knee.
Since my operation on the 20th of september (a reconstruction of the left ACL using hamstring graft and meniscus tidy up) there has been a few up's and down's… as i'm sure you'll get with any injury rehabilitation. The main issue with my leg has been the hamstring graft, every time i seemed to be progressing i'd go and re-tear the weak hamstring which would knock me back week or so; now 3 weeks since my last issue, weights are getting chucked around in the gym and my positivity is growing rapidly. This is all thanks to 3 great people, Rich Follett, Lucy Follett and Adela Carter, they have been there to point me in the right direction through every step of my rehab no matter what the situation.
I remember my first session with Rich really well, I was impressed straight away with how willing he was to work with me to build a detailed program which would ensure my knee had the best steps to get back to where it was. This fired me up from the start to take the whole thing serious, i walked through the doors with a Quasimodo limp and a general lack of understanding about physiotherapy, but i walked back out after that meeting with a spring in at least one of my steps and a positive mindset. I don't mind admitting how little of an idea i had about the whole thing, the week before my op i was like "shit, I'm gonna be on crutches next week"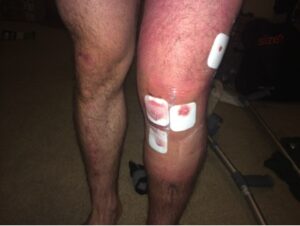 The crutch life sucked, i went from riding my bike every day to having to do things like watch TV and lay down. It didn't last long and before i knew it i was walking around and losing the limp day by day. Regular sessions with Rich or Lucy since the first visit has been wicked, one of the most memorable parts of the rehab has been accupuncture! The first time i had it, lucy was dead casual "yeah i think we'll pop some needles in that IT band, you're ok with needles right?". This was the first session i had had with Lucy so i didn't want to seem like a wimp "yeah sound with needles no worries" … 10 mins later: "I feel a bit light headed". I got used to them eventually and apparently Rich hit a personal best with the number of needles in at any one time, i wasn't watching for that one! !
The injured leg lost its muscle mass so quick, i couldn't believe how fast it shrunk. We tackled this with the compex machine, another piece of equipment i was sceptical to use! For anyone who isn't sure what that is, it's basically a small toned down electrocuting torture machine… just kidding. It's actually a very useful machine which makes your muscles contract, which effectively gets them moving and helps build up mass again, great for muscle disuse. I'm now on the 24th of november around 2 months after my op, baby steps are becoming teenage steps and I'm in the gym every night of the week, either with Lucy or Adela's blue steel conditioning crew. I've also started riding my bike again, Stif put me together such a rad Santa Cruz 5010 with slick tyres on for some road use… a trick bike just to be used for road i know !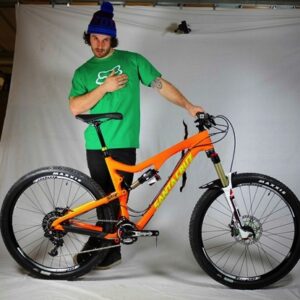 So the next steps for me are to begin riding trails again and working on my bike skill, as well as maintaining this good gym routine. I definitely wouldn't be in the shape i am at this time of year if it wasn't for my knee so I'm almost feeling grateful now for this hurdle in my career. There is still along way to go in my rehab but been able to physically see progression is helping my head for sure! We are working towards being race fit for the Enduro world series round 1 in New Zealand at the end of march 2015, I'm confident that if i stay this committed up until then i will have no problems in reaching my potential there! ! !!
Again i want to thank all involved for supporting me with this, i wouldn't have a clue if it wasn't for you guys! They say surround yourself with positive people which is exactly what i have around me so thanks guys, you're mint! ! !
Josh!