The Fit4 team share with you some ways to keep you motivated through the Winter
For some the winter may be your favourite season for getting out on your bike or running. The crisp and clear fresh mornings and enjoying normally busy routes to yourself. For others it signals the start of hibernation, the shorter days may mean your enthusiasm and motivation for getting out is less then in summer or spring.
We've put together some ways to keep you motivated throughout the festive season and beyond. We'll have you swapping those duvet days for your trainers in no time. Trust us, the first steps may be hard, but the rewards will be worth it and you'll thank us in the long run.
PICK A SPRING RACE
Now's the time to sign yourself up for a challenge. Knowing you have a race waiting for you is sure to keep you on track. What's on your bucket list for next year? Here's what's on ours. https://www.racetothestones.com
MINI RACES
Once you've got your big event booked – work backwards from the big day and schedule some smaller races. Why not get started next weekend with this 4.5 mile off road course http://www.barnsleyharriers.org.uk/index.php/silkstone-shuffle
SET YOURSELF GOALS
Rather then wait for the main event to celebrate, why not set break down your challenge into smaller manageable goals. Perhaps you've signed up for a spring marathon or sportive. Pinpoint stages throughout your training and celebrate when you reach them with a little reward or treat.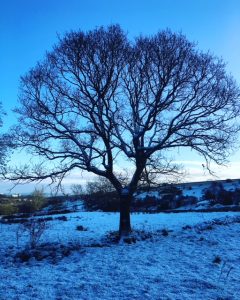 TREAT YER SEN
Surely the best bit of exercise any time of the year is planning what you're going to eat afterwards? But it's even better in the winter – decide how you're going to reward yourself and warm up. Hot chocolate and cake, cooking a Sunday roast or your favourite breakfast? You've earned it!
NEW KIT
Now neither of us need an excuse to buy new kit and the winter is no exception. Make the clothes you're wearing the reason you want to get out and show them off on the trails. Oh and as well as looking good, you'll need to make sure you stay nice and warm too. Don't forget your high vis if you're out after dark.