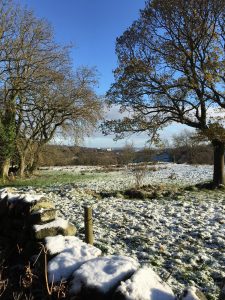 The nights may have drawn in but there's no need to hang up your running shoes until the spring. Winter running can be addictive and one of the best times of the year to see Sheffield and the Peak District. Crisp cold mornings, blue cloudless skies, making fresh tracks on frosty footpaths and being one of those 'mad people' drivers see running along. If you love running and can't face hibernating in the gym, follow our guide to getting out and about this winter.
Be safe be seen
Most winter running gear will have some form of reflective material on it but don't take any chances. If you're going to be out in the dark invest in a high visibility running jacket or vest in order to give drivers as much chance as possible to see you. Many local running clubs including Steel City Striders won't allow you to join group runs without one. www.steelcitystriders.co.uk
Treat yourself
Runners rarely need an excuse to buy new kit and the winter is no exception and layering is the key when it comes to dressing for the great British weather. Ideally dress as if it's 10 degrees warmer in 2-3 layers of breathable fabric which will help to wick any moisture away from the body as well as trapping heat in.
You are likely to get hotter than you think so avoid over dressing. A rough guide to layering would include a lightweight base layer, a long sleeved running top, a running jacket (wind proof, water proof and reflective), full length tights and finally gloves and a hat.
It's unlikely your normal road runners will cut the mustard if you're going to run regularly throughout the winter. A pair of trail shoes will offer you more grip in muddy or icy conditions, opt for gore-tex if you not going to be put off by some Yorkshire rain!
Listen to your body
As you blow your nose for the 10th time that hour, ask yourself should you really go for that run you were planning on tonight? Respect your body when you're not feeling a 100 % and give that run a miss, hopefully you'll recover faster and be back running before you know it.
Choose your route wisely
No need to ditch your favourite routes over the winter months but just take care that some routes may become incredibly boggy and icy. If you're heading out to the Peaks, the White Peak can be muddy and slippy so stick to the gritstone of the Dark Peak. Some of our favourites include Houndkirk, Lose Hill to Mam Tor and Derwent Reservoir.
Embrace the dark
Once you've got your new kit sorted, time to put it to the test! Use a headtorch and head up though the Porter Valley. Running in the dark can be exciting and you never know what you'll hear or see as you head out under the moonlight.
Last but not least…..Enjoy!
It really is one of the most wonderful times of the year. Why not enter a winter fell race like the Tigger Tor (www.totleyac.org.uk/races-2/ttor) run up through Ranmoor to see the lights on Ivy Park Road or see the baubles hanging on the tree in the Porter Clough. And last but not least reward those efforts with a glass of mulled wine and a slice of Christmas cake.
P.S Tigger Tor entries open tomorrow Dec 3rd!