Rio 2016 Olympic Games
2016 has been an incredible year for a number of reasons but one particular highlight was being part of the British Triathlon Team support staff as part of Team GB at the Rio Olympic Games in August.
In Olympic sports, the preparation for an Olympic Games starts (in earnest) the day after the previous Games. I jumped into British Triathlon's Rio Olympic preparation 2 years into the cycle when I took over (part time) from the lead physio in Leeds whilst she was on maternity leave, working for the English Institute of Sport. Since then I moved on to work at the EIS centre in Loughborough supporting the British Triathlon Team at the Loughborough centre and travelling to camps and races.
There's no i in Team
It's an age old expression "there's no i in team." Well, never has that been more true when considering the role of a travelling sports physio – especially preparing for the Olympic Games. Of course you're there to do the physio / medical side of things but your value to the team comes from all the small things that go along-side to ultimately help the athletes perform to the best of their ability. Having happy and confident athletes generally gives a great platform on which they can deliver in races. So, rather than just being a physio, you end up being a bottle filler, bag carrier, kit sorter, driver, chef, joker, tea maker, washer-upper etc etc. And being 'on duty' for a lot longer than you might think!
In preparation for Rio 2016 Games, I was asked to fulfil another duty – that of temporary training partner for Non Stanford (who would eventually finish 4th in a sprint finish for a bronze medal with her room-mate at the time, Vicky Holland). For performance reasons, the other 2 girls from the women's team decided not to travel to the preparation camp in Brazil and Non needed someone to keep her company on rides and runs so I packed my bike and my trainers!
I'm not going to lie, this was certainly one extra duty I didn't mind carrying out as I love being on 2 wheels and it was a pleasure to be able to assist Non and the team in this way in the last ten days of preparation for her first Olympic experience. My calf muscles soon reminded me that I'd not done much running through the spring / summer and trying to keep up with Non was tough! There was no way I was going to even attempt to keep up with her in the water – I know my limits!
The Countdown Begins
Although the countdown to Rio started after London 2012 finished, I think the real intense focus on Rio began with the Stockholm World Triathlon Series race in July this year where all 6 Olympic athletes were competing and where I was on physio / medical duty for the race weekend. The men's and women's races couldn't have been more different! Alistair and Jonny Brownlee finished 1st and 2nd and dominated the race from start to finish. The girls were a mixed bag with 2 ending up the medical tent at once needing emergency care and 2 others coming 3rd and 4th.
From Stockholm it was a short flight to Zurich and beautiful drive up into the mountains into St Moritz for the athletes to start a 5 week altitude training camp which would lead straight into a flight to Brazil. I just did the 1st week at altitude with the team, which was certainly a busy one physio-wise. Adaptation to altitude means a reduced training volume and add that to race and travel recovery = plenty of time and requests for treatment!
Both the altitude camp and the Brazillian holding camp pre Rio went just about as well as they could have. It's a credit to the amazing staff group we had at both camps who really had planned every detail with the upmost care and attention. Every small detail from physio, medical, nutrition, logistical planning, equipment and kit was thought through. Of course, some things you cannot plan for and occasionally you have to flexible enough to role with the punches but on the whole, each and every staff member absolutely delivered. Then there were the athletes. In Brazil, Alistair and Jonny Brownlee, Gordon Benson, Non Stanford and Richard Varga (Slovakian Triathlete/ adopted Brit and training partner in Leeds up to Rio) were simply superb. They were focussed, professional and business-like when it mattered but happy and relaxed (mostly!) throughout creating a fantastic atmosphere during the final days leading into their respective races.
Another highlight of the Games for me personally was seeing the two City of Sheffield Swimmers compete that I look after in Sheffield. Max Litchfield surpassed expectation to finish 4th in the 400m Individual Medley – a real breakthrough on the world stage. Ellie Faulkner also represented Team GB at her 2nd Olympics. Proud physio moments!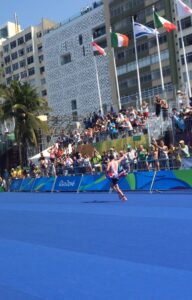 Race Days – Gold, Silver and Bronze
I'm sure the majority of the nation will have seen how the Triathlon races panned out. It was even more exciting (and nerve wracking) for us watching on race day. Non, one of her coaches and I arrived in Rio the night before the men's race. My physio duties were done at this stage so after a relaxed breakfast on Ipanema beach, I was able to watch and enjoy the drama unfold from the ticketed spectator area. The rest is history really….. Alistair and Jonny dominated the race again and whilst they had to work very hard for the result, the race panned out as plan A with no-one able to match their effort on the bike, they built up a sizeable lead into transition 2 and held their nerve in the heat to outclass a strong field proving they really are the best 2 triathletes in the world. A mention must be reserved for Gordon Benson, the 3rd member of the men's team who had a strong race but unfortunately crashed out during the bike leg. He'll be richer for the experience and certainly one to watch for Tokyo 2020.
Seeing Alistair and Jonny cross the line and collect their gold and silver medals will remain a cherished memory for a long time. A proud moment for everyone concerned.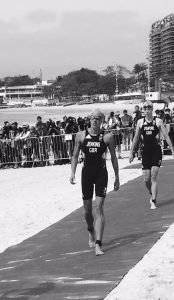 The women's race was slightly different for a number of reasons. A relatively large pack came into transition 2 containing Non Stanford and Vicky Holland. Once out on the run course, a game of cat and mouse ensued between the leaders Gwen Jorgenson (USA) and Nicola Spirig (Switzerland) of the like not seen before with neither athlete wanting to take the lead on the run. In the end, Jorgenson took the initiative and both athletes were too good and deserved their gold and silver medals. With the top 2 places decided, attention turned to the battle for bronze between Non and Vicky. Unfortunately, they couldn't both have a medal and there had to be one who would miss out. It was Vicky who out-sprinted Non in the final 100m to claim 3rd place and the bronze medal. The third member Helen Jenkins was unfortunately not on top form on the day due to illness. They can all can be immensely proud of their race and I'm sure will be mapping out the path to Tokyo already.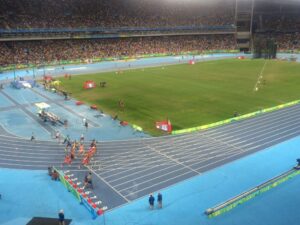 The rest of my time in Rio went by in a bit of a blur. I managed to see an Olympic Basketball semi-final and, courtesy of some very nice boys from Leeds (thanks Al and Jon / Adidas) I was fortunate enough to be in the Olympic Stadium to see Usain Bolt win his 4x100m gold medal – and possibly his last? Another unforgettable experience.
With business taken care of and a haul of 3 medals from a possible 6 from the British Triathlon Team, a tired and emotionally drained crew returned to the UK the next day leaving the athletes to bask in the glory and enjoy the closing ceremony and celebrations.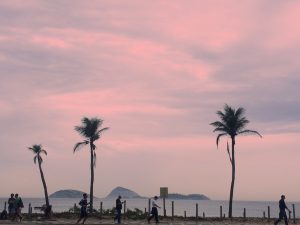 Rio de Jeneiro is certainly a fascinating city, which delivered a fantastic Olympic experience for me. Not every traveling physio or support team member is always as lucky. As is so often the case with sport, for every success story, there is one of failure or frustration. So, I'll count my lucky stars and give thanks to being part of the amazing Team behind the Team. And whilst I'm giving thanks, the Team behind the Team behind the Team also deserves a mention…. Family and also colleagues from both Fit4-Physio and the EIS who made it possible for me to devote the time and energy to assist British Triathlon in a successful Rio Olympic Games. It has been a huge honour for me to be a very small cog in the most successful Team GB Olympic Games of all time and for Triathlon to contribute 3 medals to the total tally of 67. There would be too many names to mention everyone individually, so a global "thank you" will have to do!
I also reflect on my Rio experience with huge respect for the athletes involved. Not only those 6 on the Olympic stage but also those others who didn't make it, who provide competition on a daily basis for those who did. Seeing the dedication, hard work and effort they put in to their sport is inspirational.